Higher Education Review ›› Magazine ›› June-2018 ›› Special issue
NITTE (Deemed to be University): Incorporating Cutting-Edge Research with Social Responsibility in Medical Education
Author : HER Team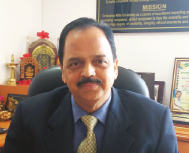 Dr. Satheesh Kumar Bhandary, Vice Chancellor NITTE (Deemed to be University)
Founded by Justice K.S. Hegde, who served as a judge in the Supreme Court of India from 1967 to 1973 and later as the Speaker of the Lok Sabha, Nitte Education Trust in Karnataka is a synonym for quality and affordable education. The trust has established 32 institutions, 3 hospitals and 4 Research centres spread in three different campuses at Nitte, Mangalore and Bangalore. Formed under the Trust of NIITE, a trust sponsored by Nitte Education Trust, NITTE that was conferred the status of Deemed-to-be University in June 2008 began offering health professions education of various levels to the aspirants across the globe and is diversifying to other areas of education. Including its first constituent college, A.B. Shetty Memorial Institute of Dental Sciences, NITTE now has eight constituent colleges, the other seven being K.S. Hegde Medical Academy, N.G.S.M. Institute of Pharmaceutical Sciences, Nitte Usha Institute of Nursing Sciences, Nitte Institute of Physiotherapy, NIitte University Centre for Science Education and research, Nitte Institute of Communication and Nitte Institute of Architecture. For its commitment to assure quality in medical education and excellence in research, the National Assessment and Accreditation Council (NAAC) has accredited NITTE with the highest Grade 'A.' Further, the University has been ranked within the top 100 Universities of the country for two successive years by National Institutional Ranking Framework (NIRF), MHRD, Government of India. NITTE is ranked 9th in the country in the area of Outreach and Inclusivity.
"We strive to inculcate a sense of social responsibility and professional integrity in all our education programs, aligning the goals and outcomes with national and global needs," opines Dr. Satheesh Kumar Bhandary, Vice Chancellor, NITTE. With an objective to build a humane society through education and healthcare, NITTE admits over 1164 students every year for under-graduate and postgraduate degrees in medical, dental, pharmacy, physiotherapy, nursing, bioscience, mass communication and architecture. . "The courses offered to the students range from undergraduate to doctoral levels, where the quality is continuously assessed by our Internal Quality Assurance Cell," adds Dr. Bhandary.
NITTE has a network of 20 rural satellite centres, two rural secondary hospitals and a rural psychiatry centre delivering health care across four districts in two states.
Most of the programs of the deemed-to-be-university are in the health sciences professions for which NITTE's teaching hospitals and network of rural health centres provide workplace based hands-on training opportunities. This gives NITTE students an edge in employability skills. At NITTE, facilities for simulation based clinical skills training provide safe yet effective approach for imparting crucial skills to students."Our tertiary level teaching hospital with all broad and super-specialty medical and dental health care services provides immense hands-on training opportunities for health professional students," claims Dr. Bhandary. The institute has a network of 20 rural satellite centres, two rural secondary hospitals and a rural psychiatry centre delivering health care across four districts in two states. This provides a unique opportunity for students of NITTE for community based learning and inculcation of social responsibility in line with the institute's vision and mission.
Research Oriented Education