Higher Education Review ›› Magazine ›› December-2017 ›› Special issue
Research Repository: Shobhit University
Author : HER Team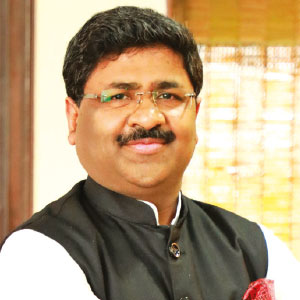 Kunwar Shekhar Vijendra, Chancellor Shobhit University
Conferred the 'National Education Excellence Award 2017- Best University for Promoting Industry-Academia Interface' by ASSOCHAM, Shobhit University is a research-intensive, multi-disciplinary University that values high-quality teaching in an environment of globally competitive, high-end research. Being at the apex of the educational pyramid, the university lays exceptional emphasis on producing professionals with high caliber and capabilities, and contributes to various research initiatives through innovative young minds.
A NAAC Accredited Deemed-to-be University, Shobhit University boasts to own a 12.5 acre of campus rendering residential facilities for both students and faculty members.
Shobhit University's curriculum focuses on robust research activities and industry exposure, which in turn heighten holistic development of the learners. Given this, apart from classroom teaching, a number of national and international levels of workshops, conferences and brainstorming sessions by experts from academia, research organizations and Industry are also embodied in the curriculum. Being a research-intensive institution, Shobhit University has joined hands with a number of universities and research organizations for collaboration in research. There are several research projects, which the university is working on presently, viz. Data Mining Technique in Agriculture, Neuro-Protective Effect of Herbal Medicine and so on.
Owing to these efforts, the University has been ranked 1st in Research Productivity among Private Universities based on Citation/Paper. Kunwar Shekhar Vijendra, Chancellor, Shobhit University, says, "Indian Universities is a prerequisite of a transformational change to become relevant in the context of global rankings of educational institutions. We think this is the right time to rewrite the history of education with substantial research activities coupled with practical learning." Students aspiring to get into Shobhit University get a range of choices to choose diverse courses from existing 10 schools offered by the university. The schools are; School of Engineering & Technology, School of Business Studies, School of Law & Constitutional Studies, School of Biological Engineering, School of Pharmacy, School of Ayurveda, School of Naturopathy & Yogic Science, School of Basic & Applied Sciences, School of Humanities & Arts and School of Education.
To promote training and extension in various faculties of the programme, the university has established special centres like Centre for Law and Good Governance, Centre for Grassroots Informatics, Development, Centre for Informatics and Standards, just to name a few. The university also provides students with the flexibility of choosing distance learning, recognizing the growing demand for online education.
A NAAC Accredited Deemed-to-be University, Shobhit University boasts to own a 12.5 acre of campus rendering residential facilities for both students and faculty members. The campus has all required equipment installed including 52 avant-garde laboratories for students. The university's central library further helps in upgrading knowledge of the students by containing over 50,000 books of different titles and by being connected to other national libraries. Encompassing all the facilities, staying on the campus becomes a lifelong and treasured experience for the students.