Higher Education Review ›› Magazine ›› December-2017 ›› Special issue
Rustomjee Academy for Global Careers: Enhancing the Employability Quotient of Young India
Author : Riya Das, Assistant Editor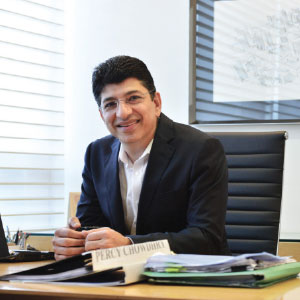 Riya Das, Assistant Editor
While, India is all set to become the youngest nation in the world with its growing working-age population, a report published by the Organisation of Economic Cooperation and Development (OECD) shows that over 30 percent of youth aged 15-29 in India are not in employment, education or training. As a developing economy, it is necessary for us to scale up the potential of our youngsters entering the workforce by enhancing education and employability. However, India's education system is skewed to percentages and grades, thereby limiting the options to a large number of students to pursue their field of interest, especially when it comes to the technical programmes. Established in 2008, Rustomjee Academy for Global Careers (RAGC) provides opportunities for the students who generally donot have access to technical training, because of either limited quality vocational training providers or lack of funds.
The reason behind RAGC having a national presence is not only its unbeaten approaches to training, but also the transparent intention of serving towards the upliftment of the nation.
"A solution to the employability issues of our young population is vocational education, which is more employment oriented, but is offered by a limited number of training providers and requires a balance of industrial and academic training pattern," opines Percy Chowdhry, Director, Rustomjee Group. Since its inception, RAGC has been able to transform many lives by offering award, Certificate, Diploma and Degree in vocational programmes across various streams along with short-term skill training such as Recognition for prior learning (RPL) under the National Skill Development Corporation & several Sector Skill Councils.
The vocational training programmes adopted by the institution are aligned with the national and international boards, which include Maharashtra State Board for Vocational Education and Examination (MSBVEE), Yashwant Rao Chavan Maharashtra Open University (YCMOU) and Pearson. This makes RAGC the only institute in the country to conduct technical programmes recognized by International board in India.
The teaching methodology of RAGC helps it to stand out from the crowd where explicit heed is conferred to the close association with the industry and solid concentration on the practicality of topics rather than theory. Owing to which the students of RAGC are encouraged to go through 75 percent industrial training and 25 percent theoretical information. The general methodology of classroom theory session consists of audio-video presentation, case studies, engaging group discussions, debates and roles plays, along with online MCQ tests.
Using the latest versions of instruction like Google classrooms and G-Suite of delivering lectures, the institute is clearly preparing the students to confront with a world which has already been taken over by digitization. "Most of our students come from the marginalized section of the society who seldom owns any digital device and to keep up with Digital Indian campaign and to help them access the digital resources, we provide free Tabs to each one of our students," states Chowdhry.
RAGC has also introduced Advance Learning Platform for Higher Achievement (ALPHA) degree program for its students, a one-of-its kind technical programme in India, where degree students of RAGC would interns at Industry site for 4 days in a week and report to the institute for two days. The students thus get the scope to earn a fundamental stipend followed by graduating with two years of work experience. With such efforts, the institution additionally boosts the students to undergo internships aligned with certain task, which they have to achieve and are monitored throughout by the academic staff.