Higher Education Review ›› Magazine ›› June-2018 ›› Special issue
Sri Sri University: Enlightening the Learners with Value-Based Skills
Author : HER Team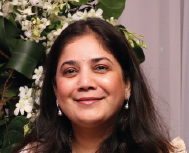 Rajita Kulkarni, President Sri Sri University
Sri Sri Ravi Shankar is a renowned figure who hardly needs any introduction. A globally revered spiritual and humanitarian leader, he has spearheaded an unprecedented worldwide movement for a stress-free and violence-free society. Being a multi-faceted humanitarian, he leads a network of organizations including the Art of Living and the International Association for Human Values with a rapidly growing presence across 155 countries. Taking a step towards instilling the upcoming generation with substantial values, Sri Sri Ravi Shankar ventured into the education arena through commencing Sri Sri University with a vision of Learn - Lead - Serve. The 21st century calls for a new education, where the world is turning fast into a materialistic one and this factor has been well addressed by the Sri Sri University where a blend of spirituality and academics is adopted to educate the learners.
Embarked in the year 2012, the University in a short span of time has emerged as a center for premium education in the country, owing to the perfect combination of western innovation with the ancient values and wisdom from the East. "Following the footprints of our visionary founder, we focus on the amalgamation of 'Best of East and West' and this is one of the many ingredients which makes us unique compared to other educational institutions," shares Rajita Kulkarni, President, Sri Sri University. With its foundation strongly rooted in spiritual, cultural and academic excellence, the University always strives to turn the students into complete human being rather than running after grades so that they, as a responsible citizen, can serve in the long-term prosperity of the society.
Holding an exemplary placement rate, the students of Sri Sri University are showered with job offers from ace companies with average CTC of Rs. 6 lakhs.
The rare approaches and dedication that the University has portrayed over the years have brought it numerous laurels and awards including Best Innovation University Award- 2017, Best University in Holistic Education Awards- 2015, Best University for Traditional and Global Outlook Award – 2017 and many more. The University offers a wide range of undergraduate, post-graduate and Ph.D. programmes in seven faculties viz. Faculty of Architecture, Faculty of Agriculture, Faculty of Commerce & Management, Faculty of Health & Wellness, Faculty of Indic Studies, Faculty of Media Studies and Faculty of Social Sciences. Also Sri Sri University is known as the First University in Asia offering Masters and Bachelors in Osteopathy along with being one of the Top 5 Universities (Private) in India offering Masters in Good Governance & Public Policy, Yoga, and Performing & Fine arts. Dr. Nand Lal, Vice Chancellor, Sri Sri University opines, "We prepare our students with an international standard curriculum which has been planned keeping in mind the demands of industry".
Considering the frequently changing nature of education, the University takes the initiative to make the necessary modifications in the curriculum once in a year where the head of the department invite the Board of Studies and discuss regarding the same. "After the final curriculum is formulated, it is placed before the Academic Council for final approval followed by the implementation," adds Dr. Nand Lal. The University has extended vast collaborations with industry and educational organization such as Baku Slavic University, Universidad Siglo, the World Forum for Ethics in Business, Overseas Volunteer for a Better India (OVBI), Drishtee Sustainable Communities and National Entrepreneurship Network of Wadhwani Foundation, just to name a few. "These associations help us immensely, from rendering students hands-on training to placement prospects and summer internships," claims Kulkarni.