Higher Education Review ›› Magazine ›› March-2018 issue
St. Aloysius Institute of Education: Disseminating Education to Tomorrow's Educators
Author : HER Team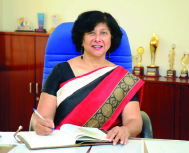 Dr. Farita Viegas, Principal St. Aloysius Institute of Education
According to Ministry of Human Resources and Development, the pupil to teacher ratio should be 30:1 and 35:1 for primary and upper primary classes respectively. However, a large number of schools in the country are still not able to maintain this ration due to the shortage of qualified teachers. Taking the plunge to create ethical and competent teachers, St. Aloysius Institute of Education (SAIE) a unit of Mangalore Jesuit Educational Society was initiated in the academic year 2006-2007. The institution is affiliated to Mangalore University and follows the regulations that have been set by the University based on NCTE norms.
Quote: A student-friendly campus, SAIE is situated in an extremely tranquil environment where the teaching and learning take place without any disturbances of the outer world.
Dr. Farita Viegas, Principal, St. Aloysius Institute of Education says, "SAIE was established with the aim of producing teachers who are well inculcated with optimum values and ethics and who are committed to be men and women for others. Since our inception, we have not deviated from this mission." Offering two-year full-time B.Ed course to the students, the institute is now planning to introduce short-term certificate courses in Guidance and Counseling and Skill Development. Apart from this, the students of the institute are also motivated to take part in Community Outreach Programmes where they visit old-age homes, rural schools, hospitals and participate in rural immersion programme which in turn helps them to gain insight into the prevalent issues of the society.
Welcoming 50 students per batch, the institute believes in keeping the class size small that helps the teachers to provide attention to each student and solve their doubts in a precise manner. "We understand the aspirations and goals with which the students enter our institute. Thus, accordingly we try our best to render them a quality education as well as the environment," pinpoints Dr. Viegas. The pedagogy followed by the faculty members at the institute is quite interactive where both teachers and students are free to express their views.
Comprehending the importance of environmental awareness of the students, the institute also hands over an exposure to the students on varied farming techniques where the students go to paddy fields and learn paddy cultivation coupled with knowledge of organic farming. "Along with the regular curriculum, we give priority to educating our students in matters which are equally essential as in teacher training. A teacher is a responsible member of the community. He/ she must be in touch with the pulse of the society and be aware of the needs and issues related to the community and society at large. Hence, we conduct many seminars for our students and teachers to orient them towards inclusiveness," states Rev Fr Eric Mathias SJ, Director, St. Aloysius Institute of Education.