Higher Education Review ›› Magazine ›› December-2017 issue
Torrens University: A Front-Runner in Cultivating Applied Education
Author : HER Team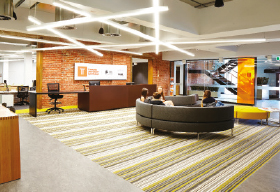 Australia's third private university, Torrens University was officially launched by former U.S. President Bill Clinton at the Adelaide Festival Centre on 24 July 2014 with the aim to deliver an international perspective to education and help students achieve and succeed in a global marketplace.
Strengthening its presence by establishing campuses in Adelaide, Sydney, Melbourne and Brisbane, Torrens University offers a range of career-focused undergraduate and postgraduate programs in Business, Hospitality, Design, Health, Education, English, Project and Sports Management including Higher Degrees by Research for study on-campus, online or a hybrid of both.
The students at Torrens are also exposed to an efficient way to maximize professional credentials through dual master degrees.
All the campuses of Torrens are led by a team of research and career-oriented academic staff who, combined with a carefully selected group of global industry partners, help students to bridge the gap between study and work. The University provides the students with countless opportunities being a part of Laureate International Universities, a leading international network of quality, innovative institutions of higher education comprised of 70 universities across 25 countries. Provided this collaboration is unique, it seamlessly allows the students to leverage the network of over 1,000,000 students around the world - including more than 100,000 online students.
Including avant-garde approaches and efforts, Torrens University is surely an ideal space for students who dream to achieve big in their field.
Considered as one of the fastest growing university, and situated amidst the most sought after higher education destinations, Australia, the university campuses are filled with a dynamic, energetic, and vibrant environment, which is additionally surrounded by friendly people. The university is home to several students coming from across the world promising them to deliver content-rich curricula and industry-aligned courses along with activity-based learning. All the campuses are inculcated with an inclusive network of alumni and students to promote collaboration and engagement with a plethora of helpful and fully-involved people for the duration of their studies.
Including avant-garde approaches and efforts, Torrens University is surely an ideal space for students who dream to achieve big in their field. International students flying from far away annually to realize their desired aspirations get the scope to attain scholarships, reducing the tuition fees by up to 25 percent. The university also came forward to appoint a team of career advisors who are always present in the campus dedicated to assisting students with academic skills coaching, orientation, integration (from start to finish), industry placements and internships.