Higher Education Review ›› Magazine ›› May-2018 ›› Special issue
Beyond IIMs - B School Survey 2018
Author : HER Team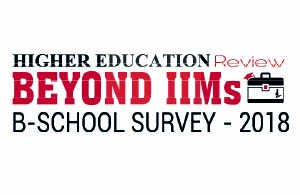 Management Education holds the pride of place for millions of students who aspire to rule the business arena. But one of the biggest blunders committed by MBA aspirants is that they fail to think beyond IIMs. With stagnant numbers of seats in the IIMs, students often remain unsuccessful to get a place for themselves even after earning a decent percentile in CAT exam. Thinking it as 'end of the world', most of them start preparing for the next session of CAT without knowing the fact that they are simply wasting their precious time. The hard work and every ounce of sweat that goes into the CAT preparation are worth it and students can rather carve a bright career pursuing their degree in the handful of B-Schools, which are equivalent to IIMs in any aspects whether it is maintaining a high quality of curriculum or rendering impressive employment opportunities; these are counted amongst the eminent B-schools.

Hence, in order to draw the attention of aspirants towards these institutions which are providing exceptional quality of management education, we at Higher Education every year conduct a survey titled as "Beyond IIMs - B School Survey," serving the hunger for decent management studies of the aspirants who are dreaming of making a mark on the business world. In this 5th edition, our expert panel has tried their best to carry the legacy of choosing the premier B-Schools of the country which stands out from the crowd. The featured schools remarkably encompass some matchless research facilities and training methodologies which are accepted globally.

We have ranked the schools by combining the scores of a perception survey with the addition of a factual survey, which is based on the data inputs provided by the institutes. In the factual survey, we have decided the scores among different aspects as shown in the infographic to come up with a total score. We have also taken the onus to portray the journey of few of these institutes through a detailed description, which we believe will be helpful to all the stakeholders of management education. Our expert panel, consisting of top HR Managers and dignified educationalist, has been instrumental since the very beginning of the survey in verifying the data thoroughly before bringing it in front of the future leaders. The next few pages contain selected schools in the survey classified into two lists "Top 100 B-Schools in India" and "Top 10 Emerging B-Schools in India".