Higher Education Review ›› Magazine ›› December-2017 ›› Special issue
DIT University: Imparting Technical Education in a Breathtaking Surrounding
Author : HER Team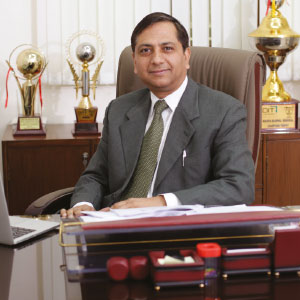 Dr. P. K Raina, Vice- Chancellor DIT University
Boasting some of the finest schools in the country, Dehradun is often referred as the 'School Capital of India.' However, when it comes to higher education, Dehradun does not have many institutions that offer quality services to the learners. Dreaming to reconstruct the higher education scenario of the state, a charismatic visionary, Late Shri Naveen Agarwal, Founder Chairman, Unison Group had initiated Dehradun Institute of Technology in 1998. Embarked with merely 180 students, today the institution, which has been conferred the university status in 2013, welcomes over 1600 students.
The Department of Engineering engages its students in all the processes of the DIT University, right from the practical and creative learning to entrepreneurship schemes and research activities.
Although, the university addresses varied disciplines through various departments, the Department of Engineering is known as the hallmark of the university. "We started off as an engineering college and have achieved a lot since then. Hence, the Department of Engineering holds a remarkable position in the campus with a history of 19 years in educating several batches of graduates who have made us proud by establishing themselves into productive human beings," says Dr. P.K Raina, Vice- Chancellor, DIT University.
The Department of Engineering offers seven disciplines namely, Civil Engineering, Computer Science Engineering, Electrical Engineering, Electronics & Communication Engineering, Information Technology, Mechanical Engineering and Petroleum and Energy Studies. All the disciplines conduct undergraduate, post-graduate and PhD level programmes for the students, so that they can start from graduation and end up doing their doctorate under one roof, if they wish to.
Students coming to study in the department belong 40 percent from Uttarakhand and 60 percent from other states. "As our campus is blessed with a feel of cultural diversity where students from different states enroll to study here, there is also a variation in their medium of studies. Not all the students come from English medium background, many of them are there who had studied in vernacular medium," pinpoints Dr. Raina. Comprehending this, the department has commenced a one of its kind short-term coaching, which is organized by people from the industry, where from the onset of the first semester the students are rendered 120 hours of soft skills training to intensify their communication skills, followed by aptitude training and add-on certificate courses.
Best of Both Worlds
Situated in an oasis of peaceful and pristine greens spread across 21 acres in the beautiful city of Dehradun, the University owns a pollution-free campus, which is a treat for the eyes and soul. The campus encompasses state-of-the-art facilities for the students including, hostels, which would give a feel of home away from home. There are numerous clubs in the institution, which support the recreational activities of the students and helps them to attain holistic development. The environment of the campus is quite friendly and positive where students from all the batches and programme sit together and share knowledge amongst them.