Higher Education Review ›› Magazine ›› December-2017 ›› Special issue
Industry Collaboration:MVGR College of Engineering
Author : HER Team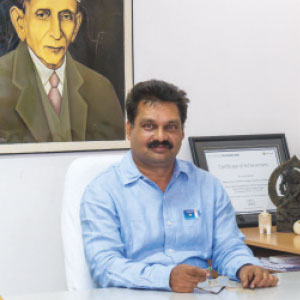 Dr. K. V. L. Raju, Principal MVGR College of Engineering:
Moulding the Technocrats of Tomorrow
It has been more than 12 years since Sasidhar Sunkari, who works in Bangalore as an Engineering Manager at Intel graduated from the MVGR College of Engineering, which is located in Vizianagaram, a north coastal district of Andhra Pradesh. Whenever somebody asks about his college, Sunkari still gets excited with joy. He believes that the best decision he took in his life was to choose MVGR for doing his engineering in computer science. "My life took the right turn just after I joined MVGR College. My experience is not just related to academic learning, but an overall personality development. Kalyan Sir and Ram Sir (Krishna Ram) were not just the teachers but were mentors in my life," remembers Sunkari.
The knowledge dissemination at MVGR starts with the student participation that arises with the interdisciplinary mode of teaching and learning supported by the partnerships
It is not just Sunkari, but there are many like Leela Rani Bora, Manager at HAL and Anil Kumar, Sensor Solutions Architect at L&T Bangalore, who still thank for the right mentorship they had received in the MVGR College of Engineering. As the list extends, the college carves a niche in the space of Engineering Education.
MVGR College of Engineering under the aegis of MANSAS possesses an illustrious journey since its establishment in 1997. With the focus on moulding change makers and technocrats for the betterment of the nation, the Institute has always involved itself in student-centered pedagogies. "Every student holds innate and the cultivated skills. We offer them a right platform to demonstrate those talents," opines Dr. K. V. L. Raju, Principal, MVGR College of Engineering (Autonomous).