Higher Education Review ›› Magazine ›› December-2016 ›› Special issue
Industry Interactions: Sri Venkateshwara College of Engineering
Author : HER Team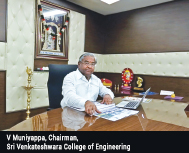 Enabling a proactive form of education is the dream every educational institute carry, however only a handful have realized and achieved successfully what they promised to obtain. One among these handfuls of promising institutions is Sri Venkateshwara College of Engineering, which was established in the year 2001. The distant dream to provide and promote intellectual competence through best of infrastructure facilities is now a reality SVCE lives in. In order to deliver a technology enabled, content rich and research informed environment for students to face challenges for a dream career, this institute brings forth a stage to learn and perform.

Dr. Shashidhar Muniyappa, Chief Executive Director, Sri Venkateshwara College of Engineering says, "Our academics focuses on the basic level of understanding of a subject, however industries require a higher understanding of the subjects with the focus on its optimum application. SVCE makes it sure to have a power pack of learning experience." As he points out that placement and industry interaction to be the strengths of the institute, SVCE has been a pioneer of sorts in its placement records over the last few years essentially raising the benchmark. From summer internships, midterm projects and up to the final placement, various academic and non-academic initiatives to empower the students to meet the increasingly competitive and challenging corporate requirements are undertaken.

Reaching the top position at Bangalore North in organizing pool campus drives, SVCE offers 25 + months of placement activities, 150+ pool campus drives, 3500+ offer letters issued and 25 + companies visit multiple times. "Apart from being the leading educator in technical education, our institution has continued to be a clear market leader in placements this year with a record 185 organizations visiting in just 25 months with a repeated visits by top 100 leading companies such as IBM, Coco cola, Ericson, Amazon, TCS, Cognizant, HSBC, Accenture, Aptean, Unisys, Maven. However, preparing such batches of skilful students, they are specially trained. Training module involves preparing CVs, presentations on current topics, improving interview skills, personality development, guiding in overall conduct, and mock sessions.

Organizing two compulsory workshops in collaboration with reputed organizations, SVCE opens the door for 2500 students mind to sharpen their skills wherein speakers and experts deliver speeches and exchange ideas and experience. This way is preferred to acquire present work culture of the industry. Approval from the Skill Development of India to train students with hands on experience has enabled training centre established by Bosch wherein their experts provide training to students of SVCE. Senior faculty members accompany students to interact in the industry followed by consulting projects, which allows industry experts lecture. Although students have been benefited through Entrepreneurship Development program, a number of students have explored even better and developed useful apps on educational, marketing, and finance apps.

Cultural activities and meditation program to exercise stress management are meant to obtain a state of equilibrium for students overall growth. To improve the standards of curriculum thus seeking autonomy, SVCE plans to set up a curriculum on par with industry very soon. However, for now they remain to balance students mind allowing a congregation of technical and cultural knowledge and taste.