Higher Education Review ›› Magazine ›› December-2017 ›› Special issue
Placement Performance: AVS Engineering College
Author : HER Team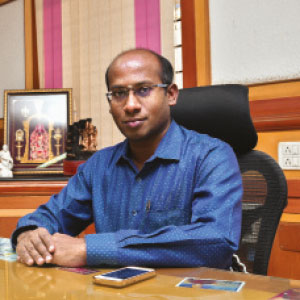 Raja Vinayakam, Secretary AVS Engineering College
Addressing the Multifarious Needs of Engineering Education
The third out of ten establishments initiated by the Om Sri Vivekananda Educational Trust, the AVS Engineering College was founded in 2008 with the aim of rendering total quality technical education to the leaders and innovators of tomorrow. Located in the heart of Salem city, the college annually enrolls 540 students to obtain a degree amid a peaceful and serene congenital learning environment.
AVS takes supplementary efforts to adjoin flair in the future engineers and introduces diverse add-on courses, technical and soft skill training during the tenure of the students in the college
The college campus offers the students with facilities like separate hostels for boys and girls, WIFI, an international standard basketball ground, food court, health club including seminar halls installed in each department. All the existing labs in the campus are fitted with state-of-the-art equipment keeping in mind the importance of practical learning for the students.
"We are aware regarding the bent of Indian students upon taking up engineering as a career along with the existing obstacles attached to the entire engineering education system. Hence, we at AVS are always committed to offer students something extra which would eventually accord them a smooth career path," says Senthil Kumar, Correspondent, AVS Engineering College. The college seemingly owns five engineering departments in its premises offering graduation and post-graduation courses, namely - Civil engineering, Computer Science and Engineering, Electronics and Communication Engineering, Electrical and Electronics Engineering and Mechanical Engineering.