Higher Education Review ›› Magazine ›› December-2016 ›› Special issue
Practical Groundwork: EGS Pillay Engineering College
Author : HER Team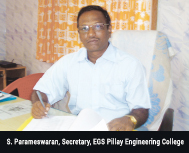 Located in the Nagapattinam district of Tamil Nadu, EGS Pillay Engineering College (EGSPEC) is a premier technical institution that upholds an extremely modern and state-of-the-art infrastructure, which goes a long way in facilitating impeccable services for its students as well as the staff members. "Started in 1995, we have 21 years of excellent service in this educational field and we provide perpetual learning environment for all," says S. Paramesvaran, Secretary, EGSPEC. With 35 PhD holders and 58 faculty members pursuing PhD, the institute offers one of the best learning environments in the country for aspiring engineering. So far, they have bagged 131 university ranks and 2 gold medals in addition to an excellent placement record that goes beyond 80 percent every year.

"We have faculty student ratio of 1:15 and more than 60 percent of our faculty members have spent considerable amount time in the industry. Hence, they equip the students to be ready for the industry," claims S. Paramesvaran. With more than 41 MoUs with reputed Industries and institutions, EGSPEC conducts value added courses, expert lectures, internship programs, in-plant training, industrial visits and many more to provide students and faculty members the latest knowledge in the field of technology. The institute has already conducted around 45 add-on courses while the faculty members are enhancing their consultancy works and R&D activities through the active industry interactions. Till date, EGSPEC has completed over 120 consultancy projects in collaboration with the industry with total project cost reaching up to Rs. 1 Crore. Using Rs. 4.35 crores received as research grant, the institute has completed 15 research projects and six more are on the pipeline.

"We have established 15 research Labs in our institute. Our faculty members are regularly publishing their research papers in reputed international journals and conferences. In the last academic year, we published around 170 papers and so far, we have published 2758 papers," pinpoints S.Paramesvaran. The institute's focus on research and knowledge creation has helped them to have collaboration with many international educational establishments around the world. EGSPEC has signed MoUs with Multimedia University, Malaysia and Aichi Institute of Technology, Japan. The scopes of these MoUs include Conducting joint research and development project, Organizing conferences and workshops, Exchange of invitation to professors, researchers, students for conferences, seminar, workshops, lab visits and short-term projects, Exchange of teaching materials and scientific publications and Exchange of students and faculties to spend time in the host university.

Today, with enough facilities, strong feedback systems, extensive alumni base, active relationship between our stakeholders and good number of statuary and non-statuary committees to meet ever-changing industry scenario, EGSPEC is in the pursuit of gaining autonomous status. "We have a Visionary Management, Well qualified and dedicated faculty members, Good Infrastructure facilities, Committed Supporting and Administrative staff members, Serene and Green atmosphere and motivated students. Hence, we are marching towards centre of academic excellence in education," concludes S.Paramesvaran.

S. Parameswaran, Secretary
S. Paramesvaran is currently working as Secretary of E.G.S Pillay Group of Institutions, Nagapattinam from 2008 onwards. He Completed his M.Com in 1986 from Thiru. Vi. Ka. Government Arts and Science College, Thiruvaraur, ACCA in 1992 from UK and Received Fellowship of Chartered Certified Accountants in 1997 from UK.